AssistHER was a 8 week pilot course, free and fully funded by Middlesbrough Council which launched in February 2021. Some amazing speakers and live coaching to inspire over the eight weeks.
During the uncertain times of 'Lockdown One' and with all our events and venues postponed indefinitely, we took a steep learning curve and embraced technology, moving completely online.  
Being able to provide events and varied sessions on zoom, we were able to create a comfortable safe spaces for our community of business and professional women to continue networking. 
As the worry of the new world we were living in became ever so apparent we asked how can we help more?  Our network answered and we listened! 
As part of our Building Back Better strategy we identified the need of an effective online remote support programme to address some solutions towards mental health and group support as local business women had diversified their businesses and others were looking for a new path into owning their own business.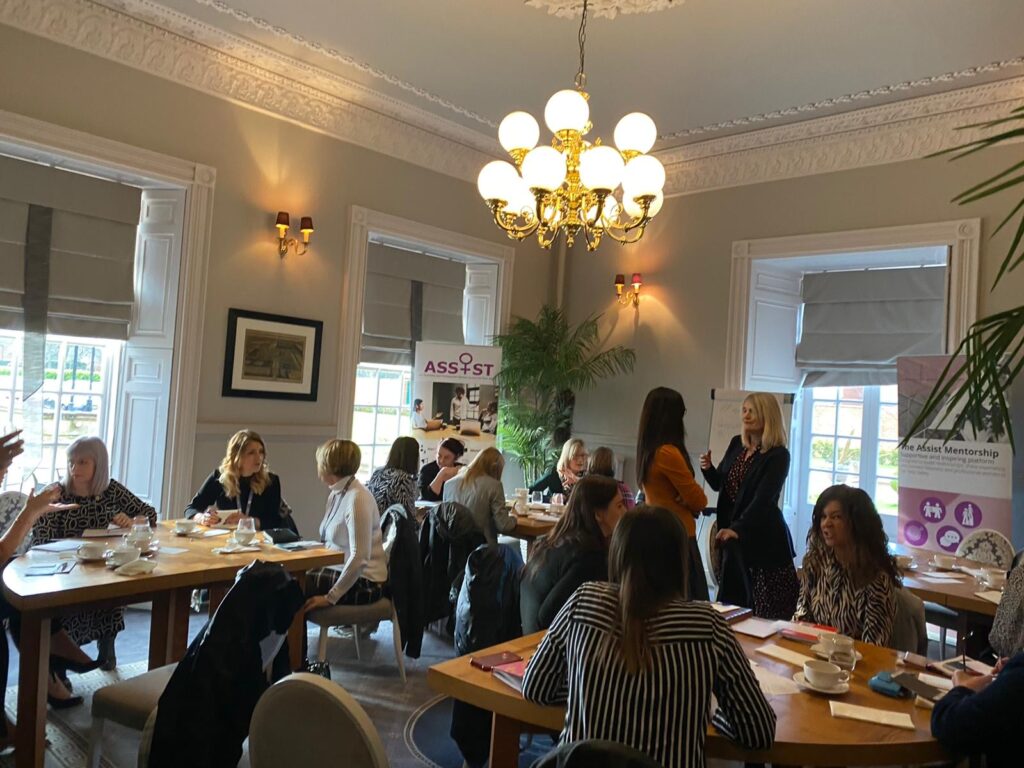 With the help of Middlesbrough Council and a small 'Impacts of Covid' fund we were able to search for a solution that could be made available.  As we followed our mission women support women it took shape as an eight week, free of charge online course.  #AssistHER
Our resident creators and coaches Dianne Casey and Vicky Brown sprinkled their magic and shared an abundance of life experience and knowledge at each stage. Nurture with a little 'out of comfort zone' time surrounded by a tribe became the perfect ingredients for our AssistHER women to embark on their own personal development.
Our AssistHER 2021 hosts are Dianne and Victoria…
We used local life coaches to run each session, some ran a one off session as a 'Takeover Coach' as they added a different dimension to the topic of that day.  We also invited a local business or professional women from the network to attend, these were our 'Thought Leaders',  role models who told their story and inspired and motivated the group.
AssistHer course consisted of...
💜 Week 1 Who do you think you are? 
💜 Week 2 Who do you want to be?
💜 Week 3 Who is in charge?
💜 Week 4 What do you want?
💜 Week 5 Bring it all on 🌟
💜 Week 6 Who is your tribe?
💜 Week 7 Speak Up. Speak out!
🌟 Week 8  Party 🥳
What people said about AssistHer
"Process great, feel lots better in self" 
"Thank you for the brilliant talk and very relevant to me at the moment"
"Enjoyed getting my three goals for the week down on paper"
"Being surrounded by positive and inspirational ladies after a very busy day"
"I love how real and fun and fabulous everyone is"
"I loved it full of positivity and motivation"
"I like knowing that even little things count"
I found Assist through a love of books and a desire for personal development but what I discovered was so much more. Whatever you come to Assist for it will benefit all aspects of your life; personal, professional and community. It is positive action for women on Teesside to support and empower each other and most importantly, to thrive. Why would you not want to be a part of this?
Having struggled for a while to find a women's network in Teesside, i stumbled across of the Assist events by chance. How happy i am that i did. Ann and the team make the networking fun and relevant, informative and comfortable. I've made several really good business connections, but mostly i've met some great women who i know i could turn to for advice, or even just to meet for a coffee. We all face the same issues within business and personally and the Assist meet's allow collaboration, suggestion, support and smiles. Thank you Assist x
Since joining Assist I have been invited to events including Hidden Women of Teesside, where I had the chance to network with local business women and build contacts. I felt very welcomed and part of something supportive of where I'm at today and what I'm trying to achieve. I now have an experienced mentor for the next year to help me focus and build my dreams. Lastly I was invited to the Assist Christmas meal which was amazing as being self-employed and a small grassroots organisation, it can get lonely so I was grateful for the opportunity to connect with other women feeling the same way and trying to achieve great things.